Therapist
Our Staff
Marcie Stresemann, Ph.D., L.P.C.C.
Licensed Professional Clinical Counselor, Board Approved Supervisor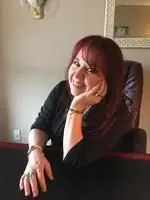 Marcie Stresemann is an experienced professional counselor and owner of Affiliated Counseling Center with over 25 years of direct service in counseling and is licensed as a Professional Clinical Counselor through the State of Minnesota. She is also a Board Approved Supervisor for Professional Counselors and holds a doctoral degree in clinical and humanistic psychology. She has over twelve years of training in the field of psychology. She offers competencies in a wide variety of areas of therapeutic work, including, but not limited to, individuals, couples, family and group counseling. She has extensive experience working with children, adolescents, and adults. She offers a caring, supportive and results-oriented approach to working with depression, anxiety and related disorders, relationship and marital issues, anger management, communication and conflict resolution, intimacy issues, eating disorders, and physical, sexual and emotional abuse issues, including PTSD. She also provides depth counseling and family of origin work for those who desire a psychodynamic approach, including dream analysis and interpretation, and works to foster personal growth through a humanistic perspective. Generally, she provides an intuitive eclectic approach based upon the individual needs of clients and the issues a client might like to work on. She views the therapeutic relationship as an ideal place to work on life and relationship issues and works to provide her clients a safe and respectful environment in which to do this work. She greatly enjoys her work with clients and communicates this warmth and enthusiasm in her sessions. If you do not see your issue listed under her areas of therapy, please contact us for information about whether she may be of service to you with your issue.
Marcie is also a Minnesota Qualified Neutral under Minnesota Supreme Court Rule 114. As such, she offers mediation services to couples who are divorcing or separating. Mediation is often a preferable option to going through the court system, which takes away individual's decision making power and often costs exponentially more than creating agreements with the assistance of a mediator. Please contact the clinic for more information about policies and fee. Marcie is also trained in Discernment counseling, which is intended to help couples struggling with the decision to work on their relationship or work toward separation/divorce.
Larry Suess, M.A., L.P.
Licensed Psychologist, Board Approved Supervisor
Larry helps his clients identify the opportunity for growth in their current crisis and helps them set and strive toward their personal goals. He has a Master's degree in Counseling and Bachelor degrees in Psychology and Music Therapy and is both a Licensed Psychologist and Licensed Marriage and Family Therapist. He is skilled in working with individuals, families and couples. Larry is trained in several different therapeutic approaches and works directly with his clients to determine which is the most appropriate for them. He is also experienced in helping clients with grief work, anger management, building communication skills and deepening of intimacy. He has experience with personal coaching and high level wellness and the use of holistic approaches to help clients enhance their lives, relationships and careers. Larry is also competent to supervise other psychotherapists and works in that capacity at Affiliated Counseling Center.
Tricia Gibson, M.A., L.M.F.T.
Licensed Marriage and Family Therapist
Tricia received her Master's degree after completing course work and practicum experience in the Counseling and Psychological Services Master's Program at St. Mary's University, Minneapolis, MN. She has over 14 years of counseling experience. She graduated from Northwestern College, Roseville, MN with a B.A. in Psychology. Coursework has included general counseling, child counseling, marriage and family counseling, sexual abuse, and chemical dependency and addiction issues. She is experienced in individual, marital, family, child and adolescent therapy with issues including depression, relationship difficulties, spiritual issues, abuse, family of origin issues, addiction, and work-related difficulties. Her approach in therapy includes working with past history to look at its influence in the present problem. This is done in a supportive environment allowing clients to make desired changes and learn new skills that can be practiced in their present lives. Tricia also offers Christian based counseling for those who prefer.
Richard A. McLellan, M.S., L.P.
Licensed Psychologist
Richard received his Master's degree in Psychology in 1987 from the University of Wisconsin-Oshkosh, after completing his undergraduate degree in Psychology at Saint Olaf College in 1981. Richard became a Licensed Psychologist in Minnesota in 1989. Much of Richard's professional career has involved psychological assessment within organizational settings. He has developed and validated numerous assessment instruments, including measures of personality and cognitive ability. He has applied his measurement expertise in developing large scale organizational assessment procedures as well as in performing in-depth individual assessments. At ACC, Richard provides assessment services for individuals seeking testing for ADHD, neuropsychological issues, learning disabilities, personality measurement, vocational and career counseling and testing, intelligence testing and other areas of assessment. Richard provides assessments, diagnostic evaluations and reporting for children, adolescents, adults and elders.
Rich also provides an array of psychotherapy services to children, adolescents, adults and seniors. He offers individual, couples/marital and family therapy. He utilizes a variety of approaches to help people.
Matt Fritscher, M.A., L.P.C.C.
Licensed Professional Clinical Counselor
Matt received his Master's Degree in Counseling Psychology from the University of St. Thomas in 2005. As a psychotherapist at Affiliated Counseling Center, he works mainly with adolescents, children and adults, with issues ranging from depression and anxiety, to personality disorders and relationship problems. Matt has experience working with clients with self-harming behaviors, chemical abuse/dependence, parenting issues, as well as with children and adolescents of divorce. Matt has also volunteered at a Crisis Phone Line for over 5 years. His gentle, client centered approach to therapy creates a comfortable therapeutic environment that promotes emotional healing and personal growth.
Marlyssa Piller, M.A., L.P.C.C.

Licensed Professional Clinical Counselor
Marlyssa (Marly) earned her Master's in Counseling Psychology from Saint Mary's University of Minnesota. She received her Bachelor of Arts in Psychology from Wartburg College. She has experience with children, adolescents and adults in individual therapy as well as couples therapy. Marly has also had experience in Equine Therapy which has allowed her to combine her passion for animals with her desire to help others through a therapeutic process. Marly's approach to therapy is client focused as well as experiential, focusing on clients' experiences and emotions. Marly helps individuals to gain insight into past experiences as well as present, and the ways in which they may be connected with emotions and feelings.
Dave Wood, M.A., L.P.C.C.
Licensed Professional Clinical Counselor
Dave Wood has a Master's degree in Counseling and Psychology from Saint Mary's University of Minnesota. He served for 23 years as communications director of a nonprofit organization that provides mental-health, chemical-health, and employment services to 20,000 Minnesotans a year. He has published two books and over 80 articles on a wide range of topics. Dave has a special interest in assisting people with grief recovery, life stage issues, transitions, positive aging, caregiver support, and LGBTQ issues. He also enjoys working with international clients. His approach is very flexible and person-centered. He truly believes that each individual is unique.
Deanna Pelley, M.A., L.P.C.C.
Licensed Professional Clinical Counselor
Deanna has a Master's degree in Counseling Psychology from St. Mary's University of Minnesota, and her experience includes helping clients work through their anxiety, depression, trauma, family conflict, and self-esteem issues. Deanna has a special interest in working with clients experiencing anxiety, relationship issues, grief/loss, and couples. Her compassionate approach to counseling is client-centered with a focus on emotions. Deanna believes it is important to collaborate with her clients and work together to best understand her clients' concerns, their origins, and what can be done to empower clients in their healing.
Sarah Fox, M.F.A., M.A., L.P.C.C.
Licensed Professional Clinical Counselor
In addition to her work as a therapist, she is also a poet and multimedia artist and ear her M.F.A. from the University of Minnesota. She's been a professor of English and Creative Writing for the past several years and has facilitated creative process workshops with sexual and domestic abuse survivors, pregnant and parent teens, families experiencing homelessness, immigrant and refugee communities, and as an artist-in-residence in schools across Minnesota. As a DONA-trained labor and delivery doula, Sarah has supported many women through pregnancy, childbirth, and motherhood, and has a special interest in reproductive psychology-including issues with postpartum depression, infertility, and pregnancy and infant loss-and in women's health and wellness concerns overall. She also focuses on gender, ethnic, socioeconomic and race-based trauma, and integrating artistic practices into therapeutic outcomes as well as pyschedelic integration. She welcomes children, adolescents, adults, and couples, and strives to empower her clients with deeper self-knowledge, mindfulness techniques, and acceptance through psychodynamic, relational, humanistic, and experiential approaches, applying a trauma-informed lens to a healing-centered worldview.
Nicole Duenow, M.A.
Psychotherapist
Nicole's work as a psychotherapist is grounded in practices of care that are trauma-informed, spiritually-integrated, and cross-culturally focused. Her Jüngian-flavored style incorporates methods and modalities that cut across multiple disciplines and fields of study, including neuroscience and behavioral physiology, comparative religions, the literary expressive arts, and the epigenetic impact of relational, historical, and intergenerational trauma. A former healthcare chaplain now on track for independent LPC-licensure, Nicole holds Master's degrees in Counseling and Psychological Services (St. Mary's University, 2017) and in Theology with a concentration in Spirituality (St. Catherine University, 2012). In addition to being an Intermediate-level student of Somatic Experiencing® , she is also beginning the final leg of her journey toward certification as a Registered Poetry Therapist.
Nicole is currently completing a 2-year clinical fellowship with the Minnesota Psychoanalytic Society & Institute, and appreciates psychoanalytic/psychodynamic psychotherapy for its power, accessibility, and unique capacity to cultivate wellness by honoring the complexities of the human person. After all, being human is often quite messy and most of us find ourselves--at least once in our lives--getting all snarled up in the tangle of this messiness. The process of analytic/dynamic psychotherapy involves a gentle untangling of the various strands and threads that got us all tangled up in the first place. Over time, patterns that once seemed both intractable and elusive begin to work themselves out; and what was once a source of suffering shapeshifts into mastery and meaning. In this way, analytic/dynamic psychotherapy conceptualizes wellness beyond the relief of symptoms to include the development of deeper insight and affect regulation, a greater sense of agency, and an identity that it is as cohesive as it is strong. Ultimately, psychoanalytic/psychodynamic psychotherapy is an art that celebrates human messiness, enhancing our overall sense of well-being by gently increasing our capacity to work, to love, and to play.
While the majority of Nicole's practice has been geared toward adults (individuals and couples) as well as adolescents, she adores children and welcomes the opportunity to work with them.